Choc Fest at Nuneaton
September 26, 2020 @ 9:00 am - 4:00 pm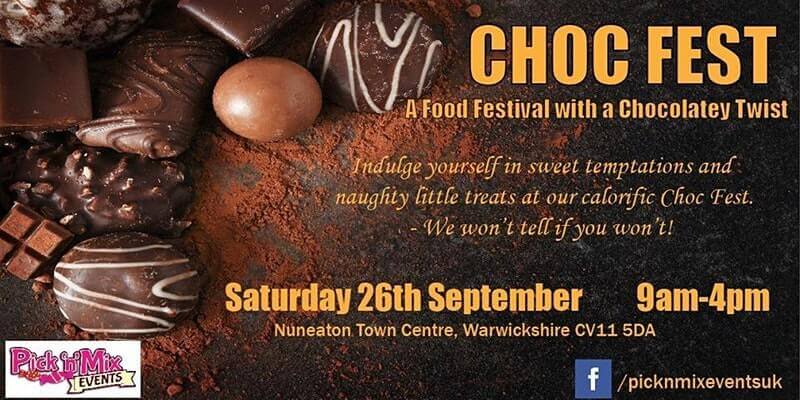 Pick 'n' Mix Events presents the first ever Choc Fest at Nuneaton!!!
A fun filled calorific day with entertainment, food, drinks and of course lots of chocolate!
Nuneaton Town Centre will be filled with an array of chocolate-themed food and drink stalls, along with independent traders offering a selection of unique, unusual and exquisite products for sale.
Your mind will be blown as we combine sweet and savoury products fused together by the power of chocolate. Let your taste buds relish with a twisted experience of chocolate pizza, or a fruity chocolate filled Yorkshire pudding!
For the more traditional chocolate lovers, why not nibble your way through the classics such as chocolate crepes and churros drizzled in a rich dark chocolate sauce.
Vegan, vegetarian and most dietary requirements catered for.
Don't forget to get your free ticket from Eventbrite to be entered into a competition to win a Calorific Choc-Fest Gift Pack!
Please note: In accordance with our company safe guarding policy, all children aged 12 and under must be accompanied by a parent or guardian whilst visiting the event.
ALL ENQUIRIES REGARDING THIS EVENT MUST BE MADE VIA ORGANISER DETAILS SHOWN BELOW AND NOT THROUGH EXCLUSIVELY WARWICKSHIRE
FOR ACCOMMODATION, CHECK EXCLUSIVELY WARWICKSHIRE'S GREAT SELECTION OF PROPERTIES